Every year, giants of the colour world emerge with their favourite shades and dictate how décor trends will be interpreted. Dulux is an architectural paint brand that was founded in 1931 and releases the colour of the year as part of their internationally renowned ColourFuture forecast. The brand assigns a panel of experts to research consumer behaviour, fashion, culture and social references to select the colours they feel will capture the mood and trends of the coming year. In 2018, the panel chose Heart Wood based on the unpredictability of the year. The colour was more about closing in and being cocooned whereas this year, things have changed with a new theme of 'Let in the Light'.
Chesterfield Leather Collection - Italian Tango Gold - Shop Now
Brown Cotton Printed Brush Stroke Cushion Cover - Shop Now
Candle Lamp 5 Lights Honey Crystal Brass Chandelier - Shop Now
For 2019, it seems Dulux wants us to cosy up at home and never leave with their choice of Dulux Spiced Honey. The shade is exactly what it sounds like. Super warm, all-enveloping, neutral, versatile and strong. It's not often that you find a colour that is both dominant and subtle at the same time but that is one of the strengths of Spiced Honey.
Rich Honey Coffee Table - Shop Now
Teak Wood Book Shelf With Honey Brown Colour - Shop Now
2018 has been one of the most volatile years in recent history, so it seems that by choosing a colour that is firmly rooted in nature, Dulux is offering us a little bit of respite. The warm brown and yellow blend is both energising and relaxing, comforting and motivating. It feels like a push in a more positive, brighter direction and is also making home décor so much more fun! The best part about this shade is how easy and flexible it is. Whether you decide to choose accents and soft furnishings in this shade or paint an entire room, we don't think you will feel overwhelmed by it at all. Dulux has said that each year, they choose colours that respond to customer needs and in 2019 they want to engage with communities and bring them together. We truly believe that everyone could use a little community after all that we've seen happen this year.
Brown Drinking Honeycomb Round Glass - Shop Now
Ceramic Bahaar Burner - Shop Now
Brown Ceramic Saranya Nut Bowl - Shop Now
The brand hopes to encourage positive action through this colour such as volunteering, opening your heart to those in need and of course, supporting those around you. Kind of like chicken soup for the soul, this colour almost nourishes you while stimulating your mind. Apart from making one feel at home, the colour is a sophisticated and classic hue that will actually stay in style much longer than just 2019. It's a timeless colour that will make your home look comfortable, chic and cosy. We suggest combining this shade with light wooden flooring, minimal furniture and stark black and gold accents.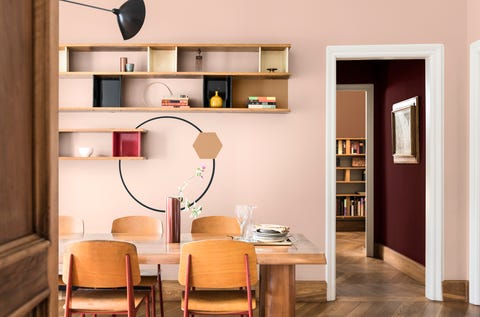 Thar Beige Cotton 1 Bath Rug - Beige - 20 X 20 - Shop Now
The Scalap Loops Cotton 1 Bath Rug - Beige - 16 X 24 - Shop Now
Personally, we believe that this colour has great potential and versatility making it one we're already excited to experiment with! You don't necessarily need to bring all the Spiced Honey Dulux elements in your home decor; go for Dulux colours that would complement the colour of the year.