We all grew up on television shows where we watched families in beautiful houses go about their lives. One thing so many of these shows had in common was the amount of time they spent in their kitchens. From Boy Meets World and Full House to Friends and the Fresh Prince of Bel-Air, open kitchens have been on our minds since we were kids! It's no surprise that this is one of the most sought after décor element in many homes. In this article, we want to help you think about open kitchen ideas to help you create the home you have been dreaming of since you were a child!
An open kitchen is a great way to bring your family together, create strong bonds and a feeling of community and conversation in your home. This space often becomes the hub of your home where everyone convenes during and in-between meal times to hang out and relax. There are so many open kitchen layout ideas, you just have to pick the right one for your home and lifestyle. In an open kitchen, the cooking doesn't have to be separated from the rest of the home and you can eat in a more casual, convivial environment.
The open kitchen should bring your family together so make sure that it is functional and comfortable at the same time. This means ensuring you have enough seating space, a dedicated prep and cooking area, sufficient storage and of course, good lighting. If yours is the kind of family who eats dinner in front of the television, you can install one in the kitchen so that everyone gets to hang out while they eat. If you tend to have many guests over and entertain often, think of finding ways to bring your living room and kitchen together so that you can do this with ease.
On the other hand, if you prefer to separate your formal and informal dining areas then you can think about adding a partition or movable door as part of your open kitchen layout design. An open kitchen doesn't have to always be the centre of your home, it's also possible to make it an independent space with its own door so that you can enjoy time in your living room with your guests while someone is cooking in the kitchen.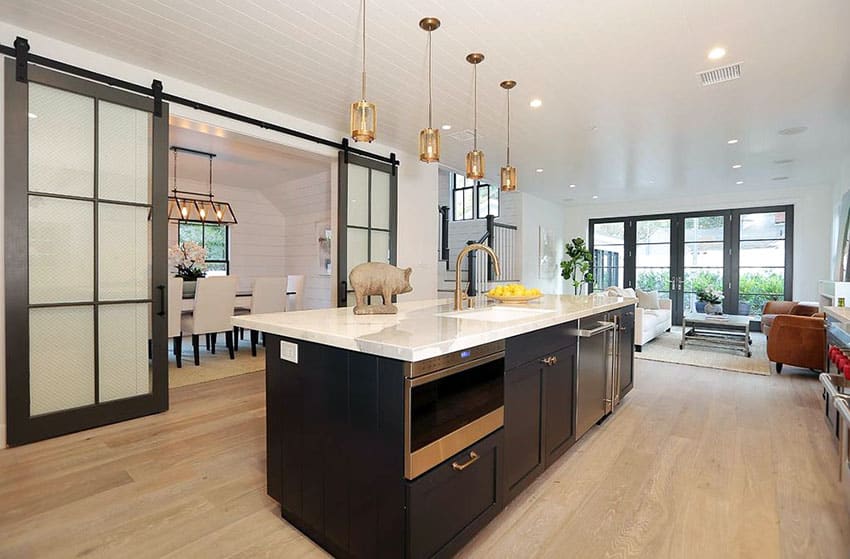 No matter what design style you choose for your open kitchen, whether it is trendy, modern, classic or contemporary; there are a few things you always need to look out for. Kitchens can become smoky and smelly, so ensure you have an effective ventilation and exhaust system. Also, plan to have enough storage so that your space is clutter-free and has enough counter space for the whole family. You also want to have natural light filtering through the room to give you that fresh, energetic feel! Choose an open kitchen layout design that is both functional and stylish, to create the kitchen of your dreams. Get in touch now.